Three unusual Romantic Getaway Experiences
Are you tired of the typical flowers, chocolates, and dinner routine for Valentine's Day? Why not really switch things up and celebrate the occasion with a unique and offbeat experience!
From romantic treehouse getaways to underwater dining, there are plenty of unconventional ways to spend this special day with your loved one. In this article, we'll explore three unusual and unforgettable Valentine's Day holidays that will leave you with a few lasting romantic memories.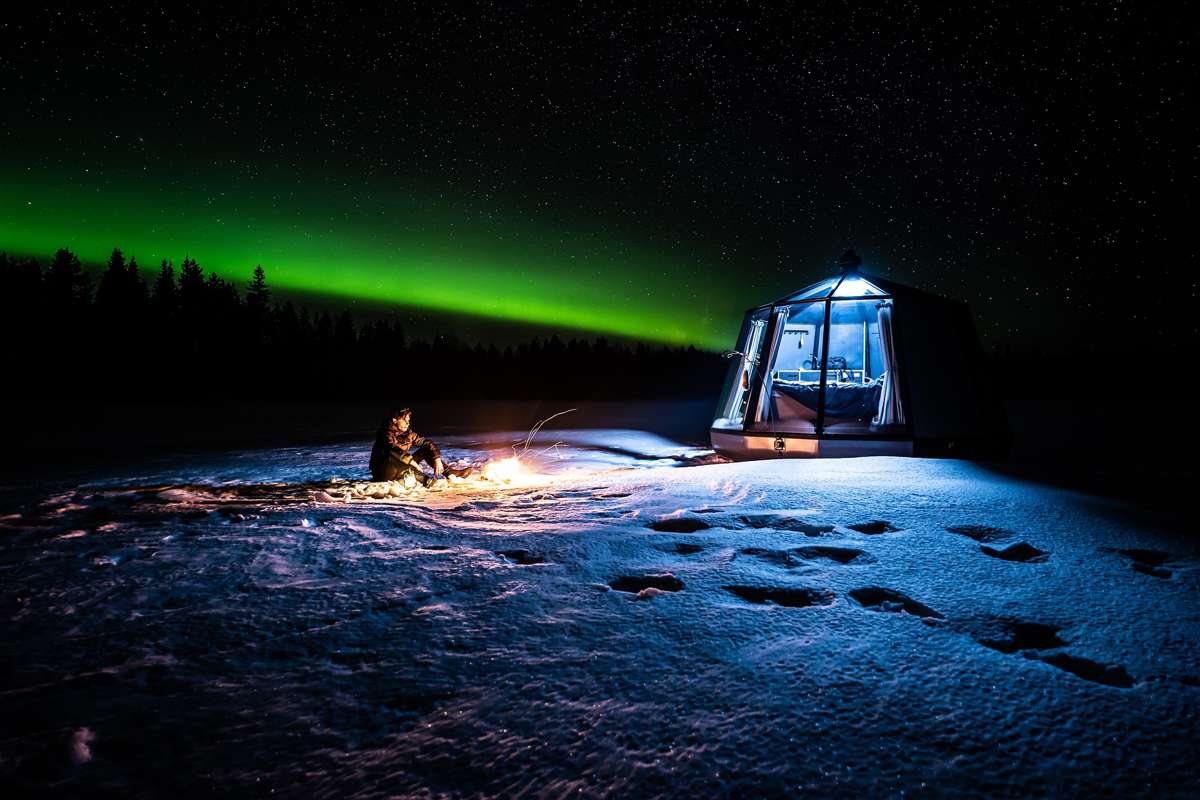 Under the Stars in a Finnish Glass Igloo
Finnish Glass Igloos are the ultimate in romantic getaways and a unique and unforgettable experience. The igloos are made entirely of glass, offering unobstructed views of the Northern Lights from the comfort of your cosy double bed.
These igloos are typically located in remote, natural settings, away from light pollution, make them an ideal location for viewing the Aurora Borealis. In addition to the Northern Lights you can also enjoy stunning views of the surrounding wilderness and the starry night sky.
Inside, the igloos are equipped with modern amenities such as a private bathroom, a small kitchenette, and heating, ensuring a comfortable stay – despite the cold temperatures outside. Some glass igloos even come with a private sauna, allowing guests to relax and unwind after a long day of exploring the great outdoors.
Finnish Glass Igloos have become a popular destination for honeymooners, couples, and adventurous travellers who want to experience the beauty and tranquillity of the Finnish Lapland.
Kakslauttanen Arctic Resort, Saariselkä
Aurora Village, Inari
Iisakki Village, Kittilä
Lapland Hotels SnowVillage, Kittilä
Lapland Hotel Sirkantähti, Levi
Levi Igloo, Levi
Rantasipi Pallas, Muonio
Santa's Hotel Tunturi, Rovaniemi
Lapland Hotel Sky Ounasvaara, Rovaniemi
Hotel Rantapuisto, Posio
Best visited from December to April for the best chance of experiencing the Northern Lights. Many of the igloos are located where there is little light pollution and the dark, clear skies provide the perfect backdrop to enhance this amazing experience.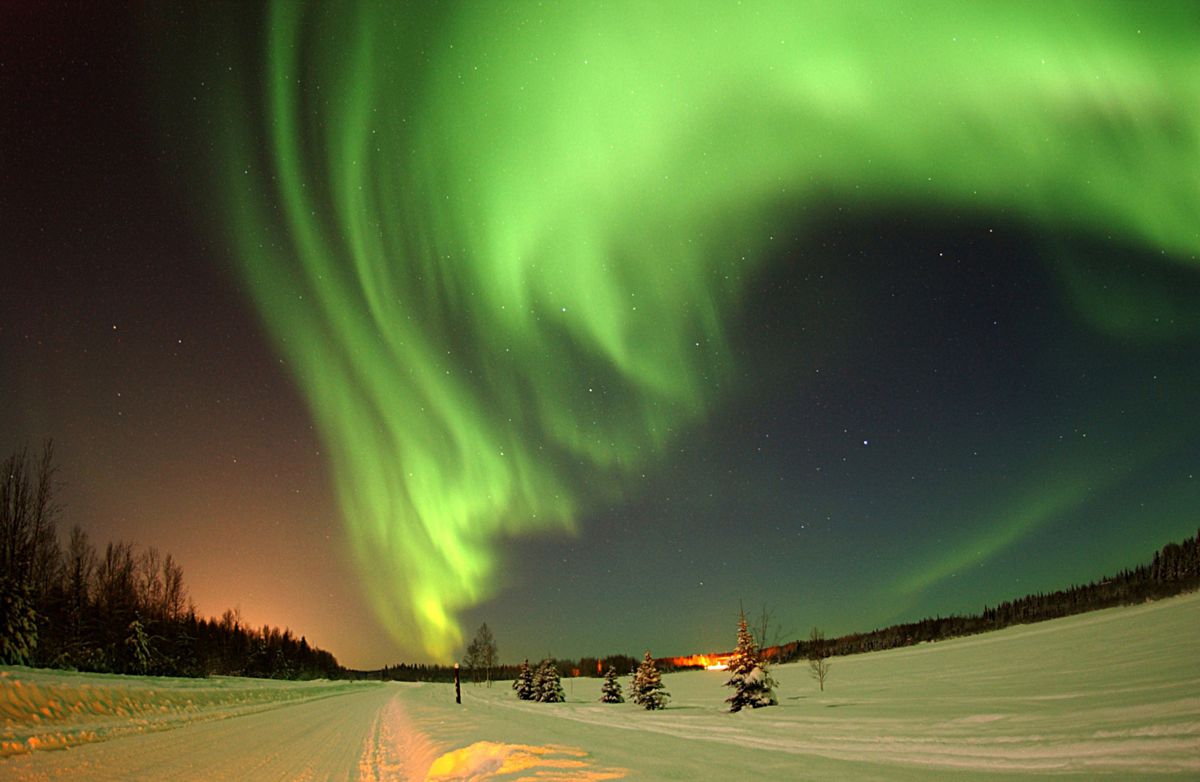 Getting there
When in country, drive or rent a car, or consider Finland's public transport system which is efficient and makes it easy to explore the country. There are many international flight options to the main airports of Helsinki-Vantaa Airport, Oulu Airport and Turku Airport.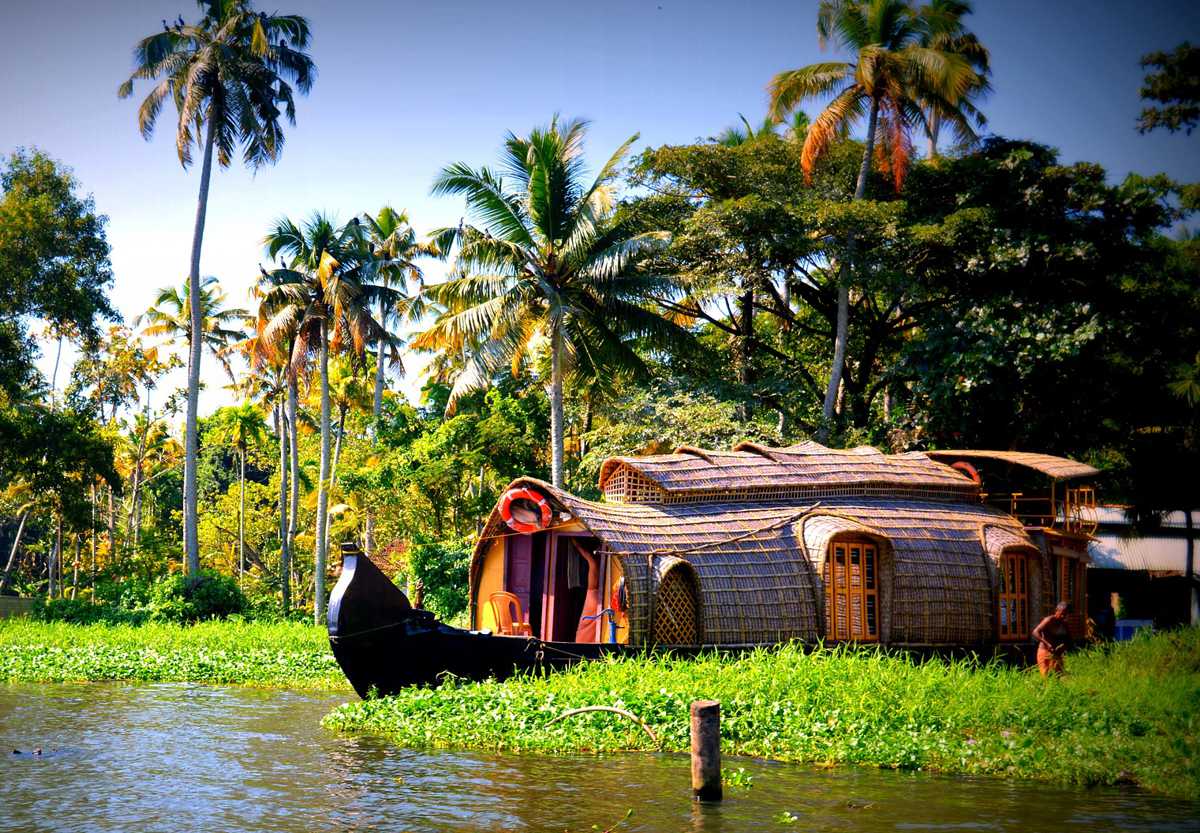 Explore Kerala in an Indian Houseboat
Exploring Kerala in an Indian houseboat is a unique and unforgettable way to experience the beauty and tranquillity of the backwaters in southern India. These traditional houseboats, also known as kettuvallams, were originally used to transport goods and people across the waterways of Kerala.
Today, these houseboats have been converted into luxurious floating accommodations for tourists, complete with comfortable bedrooms, modern bathrooms, and spacious living areas. They are typically made from natural materials like bamboo, coir, and wood, and offer a glimpse into the local way of life.
As you cruise through the serene backwaters, you can enjoy panoramic views of lush green paddy fields, swaying coconut trees, and charming fishing villages. You can also witness local life up close, as you pass by small settlements where fishermen and farmers go about their daily routines.
The houseboats come with a private chef who will prepare delicious traditional meals for you on board, giving you a taste of the local cuisine. You can also stop at local markets and fisherman's wharfs to pick up fresh produce and seafood to be cooked on board.
Overall, exploring Kerala in an Indian houseboat is a peaceful and unique way to experience the beauty of southern India and its people, making for an unforgettable travel experience.
Nalanda Houseboat
Lake Palace Houseboat
The Residency Houseboat
Green Palms Houseboat
Green Blossom Houseboat
Visit during the monsoon season, June to September, for lush landscapes and high water, and during the winter season, October to March, for clear skies and a pleasant temperature.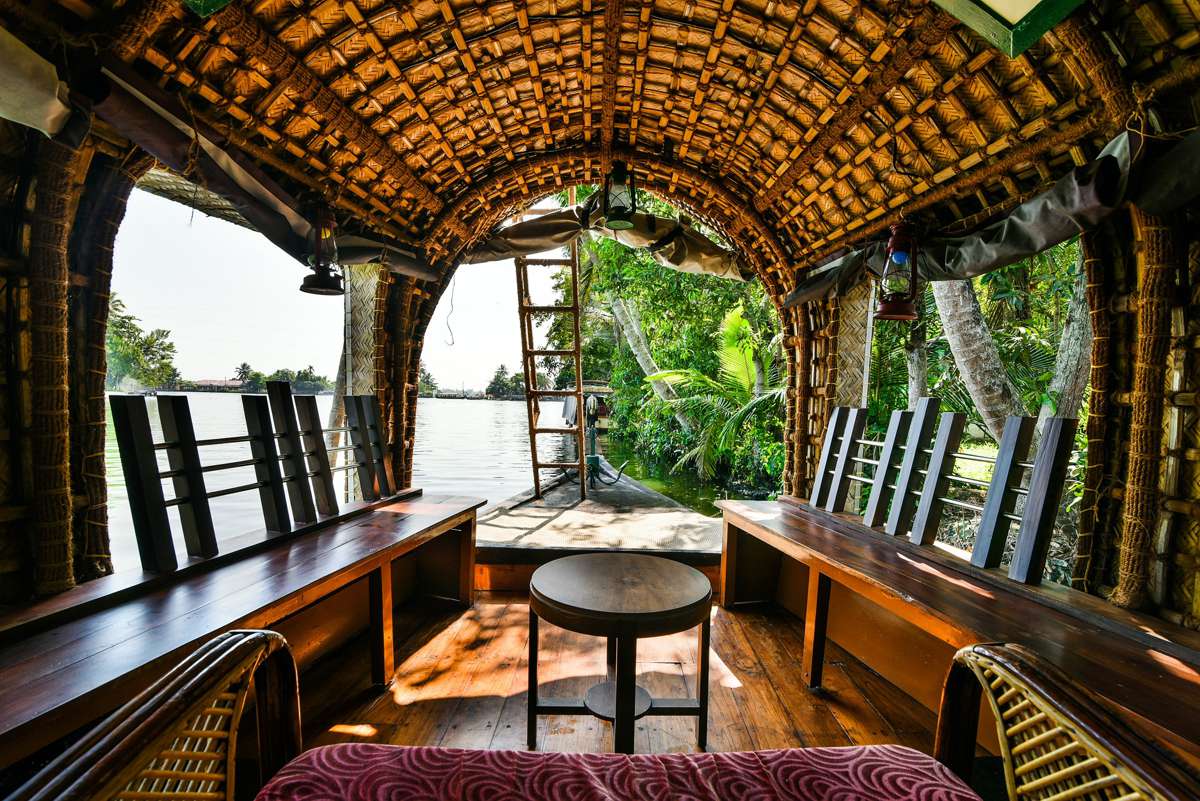 Getting there
Kerala is well connected by road or take a train from Kochi or Thiruvananthapuram in Kerala and continue your journey by rented car, bus or taxi. There are many international flight options to Cochin International Airport or Thiruvananthapuram International Airport, both located in the state of Kerala.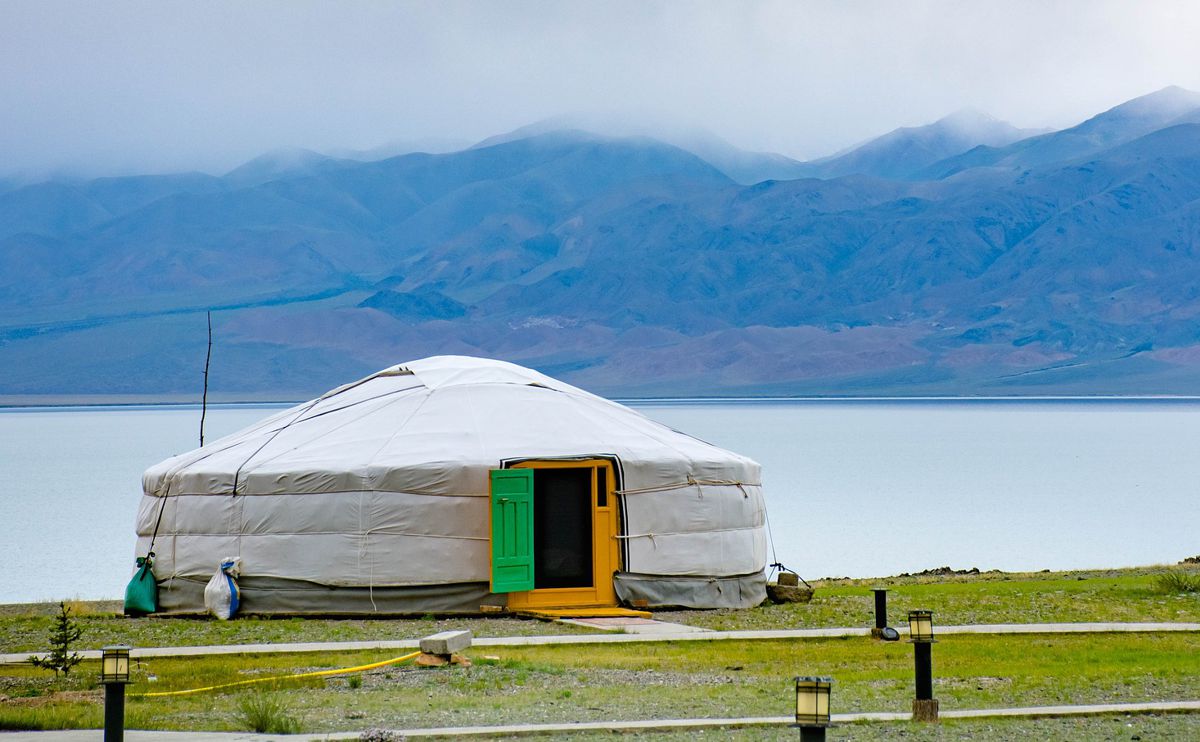 Go Nomadic in Mongolia in a Yurt
Spending a romantic holiday in a yurt, also known as a ger, in Mongolia is a unique and adventurous experience that offers a chance to connect with nature and the local way of life. Yurts are traditional nomadic dwellings made from felt and canvas, which are easily assembled and disassembled. They are typically found in rural areas of Mongolia, far away from the hustle and bustle of the city.
Staying in a yurt provides a cosy and intimate setting for couples, with a simple and rustic charm. The yurts are heated with a traditional stove and come equipped with a comfortable bed and basic furnishings. They offer a unique opportunity to unplug and disconnect from modern life, and simply enjoy each other's company in a peaceful setting.
During the day, there are many outdoor activities to enjoy, such as hiking, horseback riding, or exploring the vast open spaces and stunning landscapes that Mongolia is known for. In the evening, couples can cuddle up and enjoy the starry night sky, telling stories by the fire, or enjoying a traditional Mongolian meal.
Overall, spending a romantic holiday in a yurt in Mongolia offers a unique opportunity to experience a different way of life, connect with nature, and spend quality time with your partner. It can be a truly memorable and romantic adventure for those looking to escape from the ordinary and experience something new.
For rich grasslands and warm weather, visit from June to September with the traditional Mongolian Nadaam Festival taking place in July featuring archery, wrestling and horse racing.
Getting there
Drive or take the train from Russia or China. A guide or travelling with a tour company is recommended as the road infrastructure may not be well developed. Several airlines fly to Ulaanbaatar from various worldwide cities or to Chinggis Khaan International Airport as well as regional airlines from Russia and China.
If you've missed the boat for this years Valentine's Day, why not plan ahead! Start exploring and planning your offbeat romantic getaway for next year Valentines?